Existing-home sales rose in July to their highest sales pace of the year, according to a recent report by the National Association of REALTORS (NAR). Existing-home sales, which include recently purchased single family, townhomes, condominiums, and co-ops rose 2.4 percent in July to a seasonally adjusted 5.15 million annual units.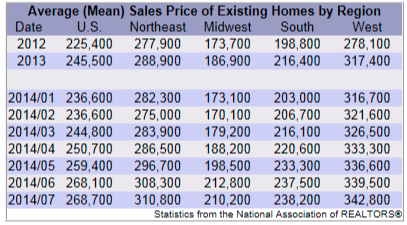 NAR chief economist Lawrence Yun credits economic health for the improved market. "The number of houses for sale is higher than a year ago and tamer price increases are giving prospective buyers less hesitation about entering the market," he said. "More people are buying homes compared to earlier in the year and this trend should continue with interest rates remaining low and apartment rents on the rise."
Nationally, total housing inventory increased3.5 percent during July to 2.37 million units. The median time for homes to sell was 48 days in July, up from 44 days in June. Forty percent of July home sales were on the market for less than a month.